BRC Racing Team ends a difficult 2020 WTCR – FIA World Touring Car Cup campaign with a handful of points finishes in the sixth round of the season, Race of Aragón.
With WTCR returning to MotorLand Aragón for the season finale this weekend (November 14-15), the team saw the opportunity to improve on its performance from the previous round, Race of Spain.
Though both of the team's Hyundai i30 N TCR cars qualified in the top ten, BRC Hyundai N LUKOIL Squadra Corse once again faced issues in the races on Sunday.
Norbert Michelisz stalled his car at the start of Race 1 and dropped from his grid position of ninth to last. Although he managed to re-gain some ground, it was not enough to break into the points. His teammate Gabriele Tarquini had similar issues and finished the race in 15th.
Race 2's reversed grid saw both cars start at the front of the field. Tarquini fell into difficulties almost immediately, and pitted to give the team time to change his turbo for the start of Race 3. Initial struggles in the final race saw him fall back down the order, but the Italian was able to fight his way back through to cross the line in 13th place.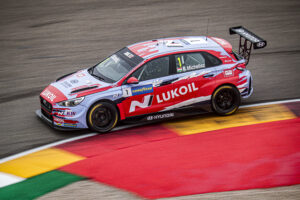 Michelisz made a better start from second in Race 2 and enjoyed some good on-track battles. His pace prevented him from maximising his grid position and to challenge for a podium finish, and he had to settle for fifth place. The Hungarian brought home points from an eventful Race 3, where he finished in seventh.
Race of Aragón marks the end of a tough season for BRC Hyundai N Squadra Corse, who finish seventh in the teams' standings, while Tarquini and Michelisz are 13th and 14th in the drivers' classification.
Team Principal of BRC Hyundai N LUKOIL Squadra Corse Gabriele Rizzo said: "We must be honest that we are glad to bring our 2020 season to a close. It has been a complicated year for us in terms of our results with the Hyundai i30 N TCR. We would like to thank our partners and sponsors, and also Hyundai Motorsport. We are grateful to them for putting their trust in us in a year where everybody has faced incredible difficulties, particularly with general world situation worsening. BRC Racing Team is committed to working harder to once again be in a position to present a winning project to our partners and sponsors in 2021."
Norbert Michelisz said: "I stalled on the grid in Race 1, and I fell back to dead last with a big gap. My start in the second race was much better, but we just didn't have the pace today. I tried to do my best and I was in some exciting battles, and while I'm happy to have taken some points this weekend I really wanted to get a podium. The final race was eventful, and I could push as I had nothing to lose, but it's a shame it was only enough to finish seventh. We know where to improve but we all tried our hardest this weekend."
Gabriele Tarquini said: "This weekend was just as tough as the others we have had this season. The slippery conditions in Race 1 were not what we were expecting, and our car just couldn't compete at the front. My second race was quite short, the engine wasn't working from the warm-up lap so we chose to pit to try and prepare the car for Race 3. The mechanics did a great job to change the turbo in time. I was running almost last and we considered retiring the car, but then the car started to feel better and I managed to come through to finish in the points. The positive thing is this season is finished."