DAKAR  2023 January 8 | Stage 8 | Al Duwadimi – Riyadh | Distance – Total/Special: 476km/346km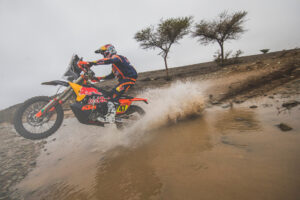 – Despite hostile weather conditions throughout the week, the convoy of competitors reached Riyadh on Sunday and it was Loeb who inherited the stage win after Carlos Sainz was handed a five-minute time penalty for speeding, stripping him of first place. However, defending champion Al-Attiyah remains in pole position to win a fifth Dakar title as he sits atop the car race leaderboard.
– In the bike race, Kevin Benavides of Red Bull KTM Factory Racing enjoyed a fruitful day and is now just 13 seconds off the lead, while team-mates Toby Price and Matthias Walkner are both in the Top 10. Benavides, 33, said: "I started at the back and caught the guys at the front after the last refuelling. Now we want to do our best in the second week."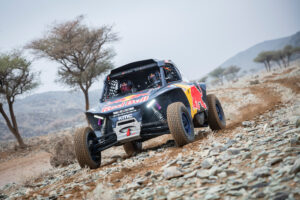 – There was also a taste of the battle we can expect to see at the front of the T3 race in the second week of the Dakar as Guillaume De Mevius and co-driver François Cazalet maintained their overall lead in the category. But they know they will be under pressure – as they were during Stage Eight – from AJ Jones and team-mate Seth Quintero of Red Bull Off-Road Junior Team USA presented by BFGoodrich.
– Now the competitors will have 24 hours to rest, recover and tune up their vehicles for the second week of the Dakar.