BRC Racing Team returns to winning ways at WTCR Race of Spain
Aragón, 11 July 2021
BRC Racing Team has taken its first win with the Hyundai Elantra N TCR at the third round of the 2021 WTCR – FIA World Touring Car Cup season, in which Gabriele Tarquini triumphed in Race 1 of Spain.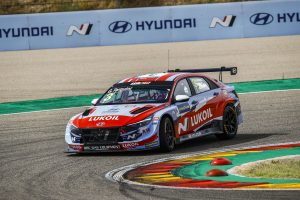 On a day where temperatures at MotorLand Aragón reached almost 40°C, the Italian driver kept his cool to make a strong start off the grid from pole position with his Hyundai Elantra N TCR. Despite pressure from behind, Tarquini was able to maintain his position at the front of the field and successfully claim his first victory with the new car.
His BRC Hyundai N LUKOIL Squadra Corse teammate Norbert Michelisz demonstrated promising pace around the 5.345km circuit in Saturday's qualifying, setting the fastest time in the first phase of the session and progressing into the top-five shootout for pole position. In the reverse grid Race 1, he was involved in on-track battles for the duration of the race, but was unable to progress up the order and had to settle for seventh.
Both drivers started Race 2 in the top-ten but struggled running in the midfield of the pack. Tarquini progressed from tenth to sixth to add to his haul of points, while Michelisz was forced to retire with a puncture while running in a strong points-scoring position.
Tarquini's victory powers him up the drivers' standings to fifth with teammate Michelisz in 14th. BRC Hyundai N LUKOIL Squadra Corse is sixth in the teams' battle.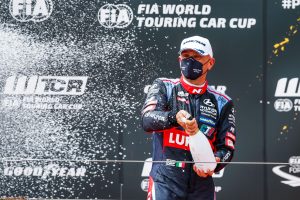 Team Principal of BRC Hyundai N LUKOIL Squadra Corse Gabriele Rizzo said: "We are delighted to take our first victory of the season in Aragón and return to our winning ways. Gabriele put up a strong fight in Race 1 to keep his Hyundai Elantra N TCR in front and convert his advantageous position into a win. It was disappointing that Norbi's puncture in Race 2 jeopardised a better weekend, but overall we demonstrated good pace and performance. We have reversed the trend of the last few rounds and now we have to keep this positive momentum going forward to the next races."
Gabriele Tarquini said: "This has been my best weekend so far this season. I qualified tenth which put me on pole position on the reverse grid in Race 1, and then I converted that into a win. It is our first victory of the season and I am very proud of the work we have done with Hyundai Motorsport Customer Racing. We have done a fantastic job developing this new car. We never tested at this temperature and the compensation weight affected us a lot, but the car was great."
Norbert Michelisz said: "Race 1 was very tricky, I was involved in fights with other cars. I struggled to overtake the cars in front but I tried my best and in the end it didn't happen unfortunately. Towards the end I was struggling with my tyres because I was pushing hard. I had a puncture in Race 2 and I needed to stop, so I couldn't finish the race. It was a shame because the car felt great and I think I had the same speed as the guys ahead of me. Overall, I think it's a good team result for the weekend and I'm very happy for Gabriele."