BRC Racing Team shows potential at WTCR Race of Germany
Nürburg, 5 June 2021
BRC Racing Team was in the mix for victory in the first round of the 2021 WTCR – FIA World Touring Car Cup season, Race of Germany, but departs the Nürburgring with results that do not reflect the full picture of the team's performance.
In its first weekend competing with the Hyundai Elantra N TCR, BRC Hyundai N LUKOIL Squadra Corse demonstrated it had the pace to win in Race 1 at the Nürburgring Nordschleife. After a great start from fifth on the reverse grid, Gabriele Tarquini was in contention for a podium finish and briefly claimed the lead in the second lap. A mistake for the Italian on the start of the final lap proved costly, dropping him down to sixth.
His teammate Norbert Michelisz began the race on the second row, but lost places to his nearest rivals after going wide at the first corner. This put him down to eighth place, from which he recovered to cross the finish line in fifth.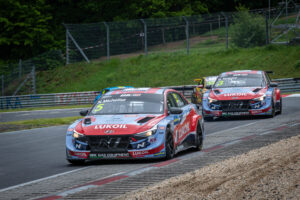 Both drivers finished Race 2 prematurely. After a better start, Michelisz took the outside line into Turn 1 but was collected in the aftermath of a separate on-track incident. Tarquini made contact with another car at the same corner, resulting in damage that forced him to retire from the race.
The unrepresentative results mean that the team is seventh in the standings with 21 points. Michelisz and Tarquini are 12th and 13th respectively in the drivers' battle.
Team Principal of BRC Hyundai N LUKOIL Squadra Corse Gabriele Rizzo said: "Naturally, we are disappointed today. We showed we had the pace to win at Race of Germany but incidents outside of our control prevented us from bringing home a great result. We are delighted with the overall results of the Hyundai Elantra N TCR, with Engstler Hyundai N Liqui Moly Racing Team securing a brilliant 1-2 finish in Race 2. A year ago we started supporting Hyundai Motorsport Customer Racing on the development of this new car, and to see it immediately able to win race makes myself and our whole team proud of the work we have done in the past year. The team will keep working hard and we look forward to the next race in Portugal."
Norbert Michelisz said: "I didn't have a good start in Race 1 and I lost a couple of places. There was some contact on the right rear and I went sideways. I managed to come back a bit, the car was working well but fifth place was a bit of damage limitation. My start in Race 2 was much better and I was more or less in the mix, but I was forced very wide due to some trouble on the inside. I tried to stay on the outside but everything got squeezed towards me. I was in the wrong place at the wrong time and in the end my race was done by the first corner. It is a shame because my target was to score some points but you have to accept that you have races like this."      
Gabriele Tarquini said: "My start in Race 1 was great and I was involved in some good fighting until the second lap. When I overtook Yvan for the lead I approached the last corner too fast because of my speed on the straight. I locked my front tyres and lost a few positions in the first corner. It was my mistake and after I just took care to finish the race. The second race was short, there was a lot of mess approaching the first corner. The car in front of me slowed more than I was expecting, I hit the car and damaged something so I had no power coming out of the corner."