FUNCHAL (Portugal), 5 December 2014 – Youthstream is pleased to announce the 2015 FIM Junior Motocross World Championship will take place on the weekend of July 19 at the circuit of El Molar in Madrid, Spain.
El Molar is a hard based circuit well known and liked by a wide spread of motocross enthusiasts. The circuit has hosted multiple rounds of the Spanish Championship with each round receiving positive feedback from the riders. Offering a great location, nestled in the Spanish capital of Madrid, and the likelihood of great weather, the 2015 FIM Junior Motocross World Championship in El Molar is sure to produce the top notch racing we have come to expect from the world's fastest young racers.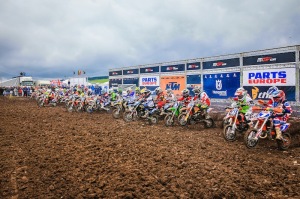 Mr. Pablo Juan Salazar Gordonnn, Comunidad de Madrid Sports General Manager: The Directorate General of Youth and Sports, the sports coordinating agency of Madrid Region – Comunidad de Madrid – really appreciates the confidence given to the Spanish Federation to organize the FIM Junior Motocross World Championship. For the local government of El Molar as well as for the city of Madrid this event is a great opportunity to promote motocross among young people and to increase the participation in this sport. It will also promote tourism in this wonderful region near Madrid
Mr. Emilio de Frutos, El Molar City Mayor: The municipality of El Molar celebrates and appreciates this announcement. We will make every effort to make the participants and motocross fans feel comfortable and welcome in our town. Moreover, this international event will unveil El Molar around the world and we are happy and really proud.
Mr. José Luís Alvarez Castellano, Moto Club Molareño President: We would like to say thank you to FIM, RFME and YOUTHSTREAM for having confidence in our Moto Club and circuit giving us the opportunity to organize the FIM Junior Motocross World Championship 2015 in Madrid. The last five years we have organized local and national events with successful results, we have always had the recognition of our work by regional and national federations. Therefore we are ready to host this important event and meet the requirements of a competition of this level to continue growing in organizing international events.
LINKS