FUNCHAL (Portugal), 1 January 2015 – MXGP's legend, eight-time FIM Motocross World Champion Antonio Cairoli has been voted as the Sportsman of the Year in a competition run by popular Italian broadcasting network 'Sportmediaset'.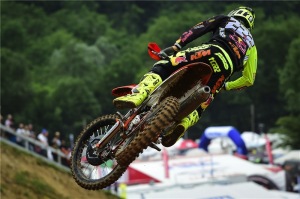 With 40% of votes Tony triumphed the likes of Football hero Cristiano Ronaldo, F1 star Lewis Hamilton, Tour De France winner Vincenzo Nibali and that's just to name a few, to be titled Sportmediaset's Sportsman of the Year.
In a similar competition Tony was chosen by the readers of well-known Italian newspaper 'La Stampa' as the 2014 Italian Sportsman of the Year. Tony led this competition also from start to finish with thousands upon thousands of La Stampa readers voting for him. The Italian fan favorite, who was up against other popular Italian athletes such as the Tour de France winner Vincenzo Nibali again, MotoGP's Valentino Rossi and NBA star Marco Belinelli just to name a few, won with a percentage of 36% of votes and a commanding lead over Vincenzo Nibali.
What better occasion to live again TC222's 2014 best moments. Click here to watch the video.
LINKS