Mediaset is all set for the 2015 MXGP season
FUNCHAL (Portugal), 17 February 2015 – The widely recognized Italian broadcasting service Mediasethas renewed their contract with Youthstream to broadcast the entire 2015 FIM Motocross World Championship on popular Italian television channels Italia1 and / or Italia2. New in 2015, both MXGP races will be broadcasted on Italia2 with the exception being that MXGP of Trentino and MXGP of Italymay be broadcasted on Italia1. In addition to the full season of MXGP action, the 2015 Monster Energy FIM Motocross of Nations will be broadcast LIVE.
The first race of 2015 FIM Motocross World Championship, the MXGP of Qatar, will be broadcasted on Italia 2 on Saturday 28th February at the following timing: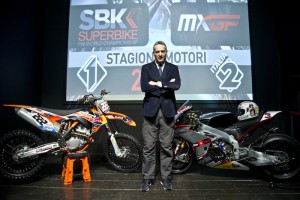 18.10 MXGP Race 1 Live
20.10 MX2 Race 2 Live
21.10 MXGP Race 2 Live
As an Italian based mass media company, Mediaset S.p.A is the largest commercial broadcaster in Italy. Former Italian Prime Minister Silvio Berlusconi was the founder back in the 1970's with his family's holding company Fininvest still holding 38.6% of the company shares.
Mediaset's head office is in Milan where most of its studios can also be found. Although Milan provides a lot of the action for the company, it also has a further three big television production centers in Segrate, Cologno Monzese and Rome.
A great majority of MXGP fans come from Italy with the nation being home to one of the greatest motocross riders of all time, Antonio Cairoli, who will be going for his ninth FIM Motocross World Championship crown this year. With Mediaset agreeing to broadcast the entire championship for yet another year, Italian fans will be thrilled to know they can support their heroes from the comfort of their own home.
Copyright: Photo: Mediaset
LINKS