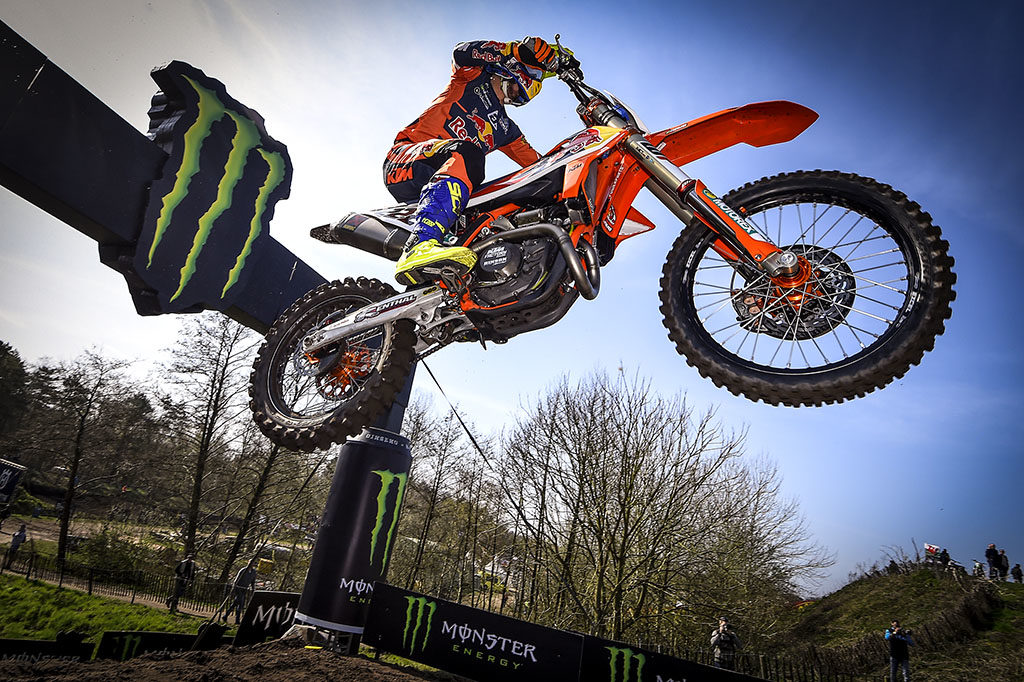 VALKENSWAARD (The Netherlands) 30 March 2019 – The first day of racing is complete at the 2019 MXGP of the Netherlands in Valkenswaard and as the sun sets on the Dutch sands, riders and fans are preparing for another day of epic racing. The first to the finish line today and first to line up for race one tomorrow are Red Bull KTM Factory Racing's Antonio Cairoli and Jorge Prado.
The MXGP of the Netherlands is off to a flying start with MXGP, MX2, WMX, and EMX125 presented by FMF Racing all descending on the dark Valkenswaard sand. Only one year ago the racing was amidst snow and freezing temperatures however today's sunshine and warm spring weather have set the tone for a perfect race day tomorrow.
Aside from the action in MXGP and MX2 Qualifying races, today hosted the first race of the 2019 FIM Women's Motocross World Championship as well as the first race of the 2019 EMX125 presented by FMF Racing season. Today's WMX race was dominated by BIKE IT DRT Kawasaki's new rider, Courtney Duncan, with Amandine Verstappen and MXFONTA RACING Yamaha's Larissa Papenmeier in chase.
The full gate of EMX125 Presented by FMF Racing was decided by morning qualifying sessions taking the number of riders down from 100 to 40. When the gate dropped team Maddii Racing Husqvarna's Mattia Guadagnini lead the way and never looked back on the way to the first race win of 2019 with 14 laps in the lead. For both the WMX and 125cc classes Race 2 will take place Sunday morning to decide the overall and hand out the first red plate of the new season.


MXGP's early season points leader Antonio Cairolifrom Red Bull KTM Factory Racing revealed a shoulder hindrance last week in Great Britain and while not completely resolved the Sicilian showed no indication of weakness today. As the fastest in both Free and Time Practice Cairoli carried the momentum into the Qualifying Race with the holeshot.
Behind Cairoli off the start was Monster Energy Yamaha Factory MXGP's Jeremy Seewer but Team HRC's Tim Gajser quickly took the spot away from the Swiss rider. Standing Construct KTM Racing's Ivo Monticelli was 4th but started to lose positions as the race got underway.
First to pass Monticelli was Honda SR Motoblouz's Jeremy Van Horebeek followed by Monticelli's own Standing Construct KTM teammate Max Anstie. Van Horebeek continued to push forward taking 3rd position from Seewer who was then passed by Anstie as well.
Monster Energy Kawasaki Racing Team's JulienLieber and Clement Desalle were in 8th and 10th after the first official lap but both progressed forward. Desalle surpassed Lieber when the #33 fell out of 7th.
The man making the most progress throughout the race was likely Rockstar Energy Husqvarna Factory Racing's Arminas Jasikonis. A poor start put the Lithuanian in 12th after the first lap but he gained 7 positions as the race went on including moves on his teammate Pauls Jonass, Standing Construct KTM's Glenn Coldenhoff and Monticelli, then Desalle, and finally Paulin and Seewer in the same lap.
Jasikonis also managed to put in the fastest lap of the race while Cairoli steadily grew his gap over Gajser throughout the 12 laps eventually taking the win by 4.5 seconds. Gajser, Van Horebeek, Anstie, and Jasikonis rounded out the top 5.
Antonio Cairoli, "In the Qualifying Race, after three or four laps, I started to get a little tired in my shoulder, so I really couldn't really ride how I wanted. Tomorrow's race is a little bit longer and after a couple of laps, I think after 15 or 20 minutes, I will start feeling a bit better, freer, and I will try to go for the win."
Glenn Coldenhoff, "Before Argentina I had only two weeks on the bike and normally you prepare yourself for three months, Argentina was very tough, England was also tough, but it was still okay, and I was surprised by getting eighth overall. I hope to continue with this progress I've made over the past weeks and yeah, here at my own GP, it's again tough cause I'm struggling every single day still but It's always nice to ride in Holland, I'm very proud to be Dutch."
MXGP Qualifying Race Top Ten: 1. Antonio Cairoli (ITA, KTM), 24:19.045; 2. Tim Gajser (SLO, Honda), +0:04.551; 3. Jeremy Van Horebeek (BEL, Honda), +0:15.172; 4. Max Anstie (GBR, KTM), +0:19.774; 5. Arminas Jasikonis (LTU, Husqvarna), +0:30.289; 6. Gautier Paulin (FRA, Yamaha), +0:35.696; 7. Jeremy Seewer (SUI, Yamaha), +0:38.974; 8. Clement Desalle (BEL, Kawasaki), +0:44.593; 9. Glenn Coldenhoff (NED, KTM), +0:48.604; 10. Ivo Monticelli (ITA, KTM), +0:50.204
Main Photo: Antonio Cairoli
Bottom Photos: 1. Tim Gajser ; 2. Jeremy Van Horebeek and Jeremy Seewer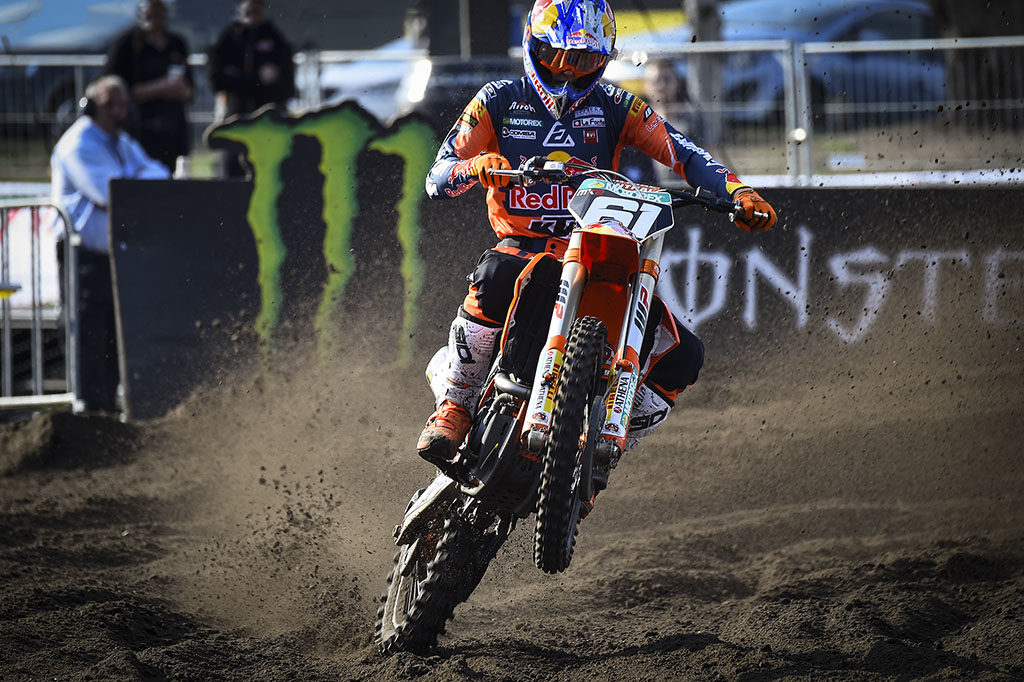 With Cairoli staking his claim in the MXGP category his younger Red Bull KTM Teammate and protégé Jorge Prado returned to racing in full form today. Just like his MXGP teammate, Prado's shoulder has been troublesome as of late even requiring the defending MX2 champion to sit out of the racing at the previous round in Great Britain.
Also similar to Cairoli not a step was missed in today's performance, Prado went fastest in both the Free and Time Practice sessions in what was his first-time riding in nearly 3 weeks. With the start of MX2 Qualifying Prado used his holeshot prowess to take the lead while several other riders fell in the first turns including Team HRC's Calvin Vlaanderen and Yamaha SM Action M.C. Migliori's Michele Cervellin. As the field entered the second section of the circuit REVO Husqvarna UK's Dylan Walsh also fell but like Cervellin would not resume the race.
The Dutch fans were on their feet quickly as Jorge Prado led Dutch native Davy Pootjes from Team DIGA-Procross Husqvarna ran in 2nd. Pootjes first dealt with pressure from the F&H Racing Team duo of Adam Sterry and Henry Jacobi but after a mistake from Sterry let Jacobi past Jacobi slid out of 3rd.
Rockstar Energy Husqvarna Factory Racing's Thomas Kjer Olsen was next to put pressure on the fellow Husqvarna rider but after six laps of intense battling and bar to bar racing the Dane finally made his way into 2nd. Monster Energy Kemea Yamaha Official MX2's Jago Geerts used his Belgian sand knowledge to overtake Pootjes as well, meanwhile Ben Watson was left pulling his Monster Energy Kemea Yamaha out of the fencing following an off-track excursion.
Once rebounded from his early mistake Jacobi made a comeback from 7th to get Pootjes as well before the finish. Prado took the Qualifying win, his first of 2019, nearly 10 seconds ahead of Olsen, Geerts, Jacobi, and Pootjes while Watson finished 10th and Vlaanderen took 14th following his start crash.
Jorge Prado, "I felt very good for the first day back on the bike and hopefully I feel the same tomorrow. It was a bit painful, but if I want to go for the win I just need to push through it, try to have a smart race, and take home some points, that's what's important."
Calvin Vlaanderen, "I feel pretty good and I've had two fourth overalls. Obviously, I want more, I want to be on the podium, but I'll take what I can get. Hopefully I can bring that momentum into this weekend. I've felt good this whole week, also training went really well, and had a good feeling on the track today. I know with my speed and how I feel right now I can fight for the podium tomorrow."
MX2 Qualifying Race Top Ten:1. Jorge Prado (ESP, KTM), 24:48.550; 2. Thomas Kjer Olsen (DEN, Husqvarna), +0:09.942; 3. Jago Geerts (BEL, Yamaha), +0:13.514; 4. Henry Jacobi (GER, Kawasaki), +0:19.460; 5. Davy Pootjes (NED, Husqvarna), +0:23.120; 6. Brent Van doninck (BEL, Honda), +0:26.980; 7. Maxime Renaux (FRA, Yamaha), +0:29.278; 8. Bas Vaessen (NED, KTM), +0:31.521; 9. Tom Vialle (FRA, KTM), +0:34.164; 10. Ben Watson (GBR, Yamaha), +0:35.901
Main Photo: Jorge Prado
Bottom Photo: 1. Thomas Kjer Olsen; 2. Jago Geerts
Click here to obtain the complete results
All the photos from the MXGP of The Netherlands will be available HERE
MXGP OF THE NETHERLANDS – QUICK FACTS
Circuit length: 1780
Type of ground: SAND
Temperature: 19°
Weather conditions: sunny
MXGP will be available across the board in high definition and is also globally available to view live and in HD on MXGP-TV.com. Click here for the complete list of countries and cooperating MXGP broadcasting networks.
TIMETABLE
SUNDAY*:
09:45 WMX Race 2, 10:25 MX2 Warm-Up, 10:45 MXGP Warm-Up, 11:30 EMX125 Race 2, 13:15 MX2 Race 1, 14:15 MXGP Race 1, 16:10 MX2 Race 2, 17:10 MXGP Race 2
*Daylight Saving Time Begins (GMT+2/UTC+2)
LINKS